It's that time of year when organizations start their business planning process. For some, marketing drives this process that began late last year. But, for a task everyone seems to know how to do, why is it so difficult?
In a recent Core Management Assessment, business planning was the top skill that senior leaders indicated their teams needed help to improve. The problem is that organizations get caught up in the template—but developing the rigor of consistently working through the process will yield tremendous results.
Good strategic planning will identify challenges and determine strategies to overcome those barriers. It is an iterative process that will help get to the 20% that produces 80%.
Remember: A poor plan executed well is better than a great plan poorly executed, or no plan at all. Whether you are a sales manager, marketing leader, or entrepreneur, this is true.
If you are a leader and believe your team needs help with business planning, we're here to help.
In this article, we will talk to you about building a great situational analysis. This will offer your business the tools it needs to identify its strengths and weaknesses and compete in the marketplace.
Below are five models that will help you on your way (note: It is unnecessary to use all five together, and each has a different value):
SWOT ANALYSIS
SWOT stands for Strengths, Weaknesses, Opportunities, and Threats. Unfortunately, many get the internal and external focus confused. Just remember that strengths and weaknesses are internal to an organization, and threats and opportunities are external.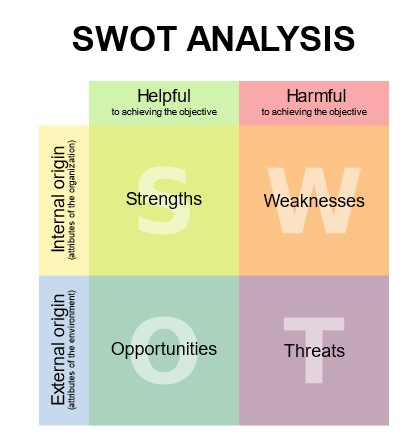 (Photo courtesy Wikipedia)
Strengths – Internal strengths can be leveraged to the organization's advantage.
Weakness – Internal attributes that hinder performance.
Opportunities – External market conditions that strengthen the organization's position or weaken the competitor's business position.
Threats – External market conditions that negatively impact the company's business position.
An effective way to work through a SWOT analysis is to think of 5 C's:
Customers – What internal and external factors influence customers' decision-making in your market?
Context – What economic conditions, trends and development might impact business opportunities?
Company – What internal conditions exist at an organizational level?
Collaborators – internal and external business partners
Competitors – What are the competitor's strengths and weaknesses?
Conducting a PESTLE (or PEST) analysis can help inform the SWOT process.
PEST
PEST stands for Political, Economic, Social, and Technological though some companies use PESTLE which includes Legal and Environmental issues.
A PEST analysis is an excellent framework to assess the business environment. In fact, working through PEST analysis helped many companies pivot at the onset of the COVID-19 pandemic.
Doing the PEST over time can keep you up to date on changes in the marketplace. I like to keep a file with PEST information on my computer to read throughout the week. Remember to update your PEST quarterly if you choose to use this strategy!
Another framework used at the organizational level is the Five Forces.
PORTERS FIVE FORCES
This framework helps companies analyze their industry and marketplace to leverage opportunities and threats. Michael Porter, Professor, Harvard Business School, and one of the preeminent authorities on business strategy and economics, first wrote about the Five Forces in his book Competitive Strategy: Techniques for Analyzing Industries and Competitors. He has also authored countless other books and articles on strategy.
Companies should use the five forces to assess the competitive strength of at least three competitive organizations. The five forces are:
Supplier power
Buyer power
Competitive rivalry
Threat of substitution
The threat of new entry
VRIO ANALYSIS
VRIO analysis is often used to complement to the PEST analysis, which assesses the macro environment. The acronym stands for Value, Rareness, Imitability, and Organization.
It is used to assess the situation inside an organization: its resources, their competitive implication, and the potential for improvement in a specific area or a particular resource.
CORE ASSESSMENT
This resource helps an entrepreneur assess capital investment, ownership involvement, risk factors and exit strategy. I am not as familiar with CORE but added this as a model for entrepreneurs to think about. depending upon their type of business.
It is still essential for an owner who is not looking for investors to know the operational cost needed to run the business. Whether you decide to use a traditional model or this, it's good to invest time in planning. Some places to look for help include the Chamber of Commerce, the Small Business Administration (SBA) and SCORE, a non-profit partner of the SBA which provides free mentoring.
Business planning is an essential skill for any company. If you need help, please reach out to see how we might assist you. Core Management Training in collaboration with the Brooks Group delivers Account Management, Strategic Thinking & Planning, and Business planning to help teams deliver top performance.